An escape into the extraordinary
3505 Pacific Ave.
Forest Grove, OR 97116
Local: (503) 992-9533
Elsewhere: (877) 992-9533
Contact Us
The Timberbound Project
7 p.m. |
Free |
All ages welcome
About The Timberbound Project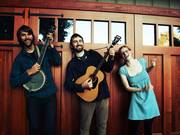 Featuring Joe Seamons, Kate Sandgren and Gavin Duffy, The Timberbound Project plays Northwest folk and blues, interpreting songs written in and about rural life in NW Oregon.
The band's essence is contained in the story of John and Kim Cunnick, who lived in the woods near Vernonia, Oregon in the early 1970s. The Cunnicks inhabited an old logger's cabin, and lived without electricity or running water. John worked part time in a sawmill, and wrote song lyrics for which Kim created melodies. After John tragically died in a car accident, Kim published their songs in the form of the Timberbound songbook. She performed the songs for a couple of years after that, forming a band with Hobe Kytr, Dave Berge, and Mark Loring. In roughly 1978, Timberbound disbanded.
These songs have been played by folks in the area ever since, but few of them have ever been recorded and released in any way. The Timberbound Project is exploring the stories that surround the songs, and developing arrangements for eventual recording.
Biographies
Joe Seamons grew up roughly 20 miles from the spot where John & Kim Cunnick lived, and been hearing the Timberbound songs all his life. Joe's parents knew Kim Cunnick, and met John briefly soon before he passed. He lives in Portland, Oregon and also performs with Renegade Stringband.
Kate Sandgren grew up in Aberdeen, Washington. She and Joe have known each other since infancy, and have also absorbed NW culture through the art that their parents create. Kate now lives in Portland, and is a student of both French and the autoharp.
Gavin Duffy is a chef from San Diego, California. He met Joe when both were freshmen at Lewis & Clark College, and they have played music together ever since. Gavin earned his master's degree in music composition from Indiana University. He plays the dobro in Renegade Stringband. In 2012, he will open a sandwich shop in Portland called the Devil's Dill.
Facebook:




Listen on Soundclound:
Map & Directions
Tags for this Event:
Music:
Blues
Americana
Property > Grand Lodge
Related content (tags):