Bridges to Breakers Hammerhead 100 Bike Ride
All day ride! |
$75 per rider; register at bridgestobreakers.com |
All ages welcome
Bridges to Breakers Hammerhead 100 Bike Ride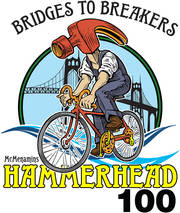 Registration is open now – and you'd better start training if you're one of the 500 who are determined (crazy?) enough to take on this grueling bike ride! The route begins at McMenamins St. Johns Theater & Pub in North Portland and ends 102 miles later when you roll up to McMenamins Gearhart Hotel and the Sand Trap Pub.
The end-of-the-route celebration is here at our Gearhart Hotel, where we'll have live music by The King Brothers – and your friends can meet you here, as this party is open to the public! A buffet feast, starting at 2 p.m., is included for riders, and is $17.95 for all others. Live it up!
Proceeds from the ride, sponsored by the Harrington Family Foundation, go toward funding bicycle safety.
Advance registration is required, visit bridgestobreakers.com.
website: