Back to school in Bend!
700 N.W. Bond Street
Bend, OR 97703
Local: (541) 382-5174
Elsewhere: (877) 661-4228
Contact Us
COTA Movie Night @ McMenamins
The Road Uphill
9 p.m. |
$5 per person, cash only |
21 and over
About The Road Uphill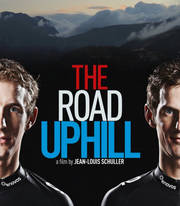 Andy Schleck has been in the road cycling news lately for all the wrong reasons. After coming in second at the 2010 Tour de France he's struggled to match that result. His 2012/13 season has been marred with some public meltdowns and some disappointing DNF's.
In 2011 he starred in a German film called The Road Uphill...
The Road Uphill premiered in Luxembourg, Germany to rave reviews and despite being one of the most beautiful TDF cycling films since Chasing Legends - it suddenly disappeared. A undisclosed source close the the film project says that RadioSack-Nissan Trek manager Johan Bruyneel had the film buried. Apparently, the Belgium mastermind decided the film was about Andy Schleck taking second place and claimed that second place in the Tour was nothing to be proud of.
We'd disagree, and are super-excited to bring this rare and excellent film to COTA Movie Night in April.
Starring the Schleck Brothers, Fabian Cancellara, Jens Voigt, Stuart O'Grady, and the late Wouter Weylandt.
Movie Night at McMenamins raises funds and awareness for Central Oregon Trail Alliance. Come join us and win some sweet door prizes from Sunnyside Sports and Pine Mountain Sports.
Map & Directions
Tags for this Event:
Property > Old St. Francis School
Related content (tags):