at Crystal Hotel
303 S.W. 12th Ave.
Portland, OR 97205
Local: (503) 972-2670
Elsewhere: (855) 205-3930
Contact Us
Jeffrey Martin
The Ruby Pines
McDougall
7 p.m. |
Free |
21 and over
Jeffrey on The Ruby Pines: "When I first heard the Ruby Pines online I was convinced (by singer Moorea Masa's voice) that they were from another era.  But they are indeed happening right now, and in Portland nonetheless.  Michael Backus makes up the other half of the duo and his simple guitar and harmonies always seem to sit right where they should.   Their songwriting and chemistry give even the best duos a run for their money (looks like The Civil Wars disbanded just in time.)"
About Jeffrey Martin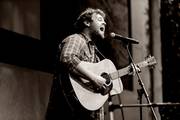 While I was earning an English degree, Josh Ritter came to my college and put on a small solo concert. Watching Ritter on stage was like watching someone trying to make sense of their existence, in real time, with a guitar and words. It seemed to be less of a performance and more of one man's necessity, which happened to be on public display that night. I had written songs before then, but certainly all that followed became something else entirely. I strive to find those songs, to write those songs, that exist in that perfect place perched between my own experience and the common experience that everyone can relate to. This rarely happens (in fact, I don't even know if it's happened yet.) I also think that I take myself much too seriously, and I have a lot to learn about writing songs that make people feel good; that make people want to shake around a little bit.
When I'm not playing music I substitute teach high school students. People love to ask how I balance music and teaching, which one I'm more passionate about; would I leave teaching behind entirely to pursue music? Does teaching influence my music? I don't know the answer to any of these things. I am passionate about music and I am passionate about teaching. Some days I can't stand music, some days I can't stand teaching. Both can feel like work, and both can leave me feeling like a crook for getting paid to do what I do.
I grew up a little bit in Texas, and then mostly in Oregon. My parents read to me at night and took me to the library and flooded my ears with music that meant something. My mom made me learn the cello at a young age. My dad took me to see John Gorka and Leo Kotke. I have a dog, a yellow lab named Ben, who has toured more than 10,000 miles with me over the past few years (human miles.) I play an old 1970′s Takamine gifted to me by my uncle.
-Jeffrey Martin has released two albums. Gold in the Water (2009) and Build A Home EP (2012.) In 2011 he was invited to the Sisters Folk Festival as an emerging artist, and then returned in 2012 as an officially showcased artist. In fall of 2012 Jeffrey was a finalist in the Mountain Stage / New Song contest in New York City. And he has earned songwriting mentions in American Songwriter Magazine, as well as the 2009 Kerrville Folk Fest songwriter contest.
Website:
About The Ruby Pines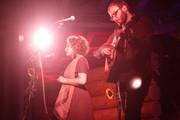 "Consisting only of Michael Backus, Moorea Masa, and one lonely acoustic guitar, the Ruby Pines are a stripped-down sapling of a band-not to mention they've only been playing together for the better part of 2011. However, there is something hauntingly familiar and innate about the music this mostly local duo is making. Backus strums through blues riffs while Masa's thick and resounding voice stands intrepid at front and center, evoking Etta James, Mahalia Jackson, and other great vocalists who form our concepts of early R&B and gospel singing, and have been overthrowing our emotions for years. And with their scant collection of recordings-the Ruby Pines released a solid, self-titled EP in March-these live performances are to be cherished, with hopes that new material will be cropping up soon. " -- RAQUEL NASSER, Portland Mercury
Website:
About McDougall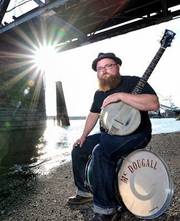 With his imagination often dwelling in the very real places of his past and present, as well as in the possible future, McDougall's songs may very well seat you by a coffee-can fire in the middle of a dry California river-bed, pull you up onto a freight train in the lush spring-time of the Pacific northwest, raise your voice in hymns with the entire family on a Thanksgiving afternoon, or haste your good-bye to civilization as you know it, as you ramble on with all you possess on your back.
Fact, fiction, and a little in between, McDougall carries on the relevant tradition of oral history and folklore, making it a part of everyday life and sharing it with those around him. Inspired by the word of God, his family, friends, fellow workers and fellow travelers met along the way, McDougall wishes to keep to the unwritten rule of using what was left by those before while leaving something of your own for those who will come after.
Facebook page:
Map & Directions
Tags for this Event:
Music > Americana
Property > Crystal Hotel
Related content (tags):