at Crystal Hotel
303 S.W. 12th Ave.
Portland, OR 97205
Local: (503) 972-2670
Elsewhere: (855) 205-3930
Contact Us
Asher Fulero: Obscurities
7 p.m. |
Free |
21 and over
About Asher Fulero: Obscurities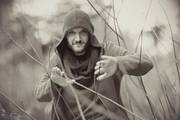 Asher Fulero is a musical artist with virtuosic piano/keyboard skills and a modern-edged producer that defies categorization.Constantly involved in a wide breadth of musical projects, he continually pushes his own boundaries both technically and stylistically and has captivated fans from Cairo to California with his fresh ideas and spontaneity. Over the years he has made music with an long list of musical heavyweights, and has performed in over 50 wide-ranging live bands at venues and festivals of all sizes and shapes.
He has recorded on over 75 studio albums, many of them engineered, produced, and/or mixed by Asher himself. He has worked in nearly every genre, including Pop, Rock, Funk, Singer-Songwriter, Americana, Bluegrass, Progressive Rock, Classic Rock, Blues, Reggae, World Beat, R&B, Soul, Jazz, Fusion, Hip-Hop, Latin, Afro-Cuban, Afrobeat, Classical, Children's, and every electronic genre under the sun, from House, Techno, and Trance to DnB, Jungle, Dubstep, Downtempo, Trip-Hop and IDM.
As a keyboardist, Asher is a Moog Artist and a Nord Artist, carrying prestigious endorsements from both legendary keyboard companies. He also occasionally acts as a clinician for Moog's newest technology. In his spare time he also writes music freelance music-gear reviews for Electronic Musician Magazine and creates videos and patches for Ableton sound designers Puremagnetik.
From 2003-2009 he spearheaded a successful live-tronica duo called Surrounded By Ninjas, touring around the Western half of the country. Fulero disbanded the group after self-producing their 3rd album, 'Disassociation Association', in order to focus on a new solo production venture entitled Halo Refuser (an anagram of his name). Under this moniker he has been extremely prolific, with 6 releases in 3 years. After 3 free EP releases (including remixes from artists like Graintable, Solovox, PlumbLyne, Auditory Sculpture and others) he debuted his full length CD 'Ambigrammatic' (with appearances from UK phenom KJ Sawka (Pendulum) and hiphop producer The Great Mundane). He also released a 9/11 Tribute single on NYC label Global Vortex Records as well as contributing to a compilation from Seattle label Innerflight Music.
In February 2010 Asher released his first solo piano album, a collection of sensitive improvisations entitled 'The Green Piano'. In a show of his fan-base's support and the new online model, he sold so many $5 digital copies that he was able to duplicate physical CD's from the online revenue alone. Two months later he released a free live album from his out-jazz trio Three For Madness as a gift to his supporters.
For 12 years Asher has also performed with a Eugene Oregon-based Pink Floyd tribute group known as The Floydian Slips. In 2010 they performed 'Dark Side of the Moon' with the Eugene Ballet Company (choreographed by legend Tony Pimble), then later that summer they broke attendance records at the Oregon Country Fair for a late-night blowout to over 6,000 people.
In the spring of 2010 he joined the Buto Beat All-Stars to perform at a sold-out dance show on the Nile river in Egypt. Then later that summer he headlined the 49th Philadelphia Folk Festival with reggae legend Jah Levi & The Higher Reasoning as well as appearing on his World Fusion Project series of star-studded studio releases, playing alongside Ernest Ranglin,Steve Kimock, Vieux Farka Toure, Leroy 'Horsemouth' Wallace, David Grisman, and many others.
Asher also has extensive experience as a recurring member of The Everyone Orchestra, a star-studded improvisational ensemble that constantly changes lineups. Asher toured across the US with E.O. during 2004-2006 during which time he performed alongside an extensive list of stars including members of Phish, String Cheese Incident, The Flecktones, The Meters, Steve Kimock, Garaj Mahal, JFJO, Tea Leaf Green, and many many more.
Asher also hosts the Keyboard Summit, an annual event in Portland Oregon which gathers a multitude of keyboard players together for an improvisational night of black and whites.
2012 holds all sorts of excitement as Asher plans to release his first rock band album, another EP and 2 singles from Halo Refuser, and the follow up to his piano album. In addition he will be appearing on new studio albums from Colorado jam legends Leftover Salmon, Portland guitar shredder Scott Pemberton, Bay Area bluegrass heads Hot Buttered Rum, and conscious reggae singer Shimshai.
Official Website:




Artist Data Page:
Map & Directions
Tags for this Event:
Property > Crystal Hotel
Related content (tags):