A truly remarkable destination.
2126 S.W. Halsey St.
Troutdale, OR 97060
Local: (503) 669-8610
Elsewhere: (800) 669-8610
Contact Us
Ed Haynes
7 p.m. |
Free |
21 and over
About Ed Haynes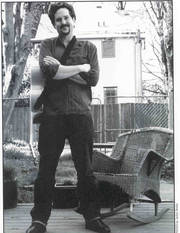 Ed Haynes wrote his first song at age thirteen, shortly after his mother bought him his first guitar. The song he wrote was terrible. I mean real awful. Unfazed, however, by the melodic deficiencies and the blatant self-aggrandizing nature of his lyrics, he kept at it. He began writing better and better songs.
After moving to San Francisco as an emotionally immature young man, he broke into an unoccupied recording studio in the wee hours one morning and recorded, very quietly, a handful of his own compositions. That simple tape of him - alone hunched over a guitar and practically whispering into the microphone for fear of alerting the police - landed him a recording contract. His debut album Ed Haynes sings Ed Haynes was released. The album featured the college-radio anthem I Want to Kill Everybody, which reached out and touched a generation of un-snapped loners. The video of the song became an all-too-brief staple on MTV. People Magazine declared Ed "extremely interesting", a comment that Ed described as "somewhat interesting".
In support of his album, Ed toured nationally, and made sojourns into Canada and England as well. Some of the clubs that have been proud (author's interpretation) to present Ed Haynes include: Tipatina's in New Orleans, The Bottom Line in New York, The Hammersmith Odeon in London, and The Great American Music Hall in San Francisco.
Following this initial success Ed Haynes rested on his laurels. His friends, family, and colleagues all told him "Ed, don't rest on your laurels! Don't rest on your laurels!" Ed, however, much to his credit, lumped this and all other kernels of free advice he received into the "actively ignore file" and remained a determined follower of his own, sometimes bizarre predilections.
He hobnobbed with celebrities, famous politicians, rouge lawyers, and jaded journalists. He beat the crap out of Norman Mailer and Mickey Rourke at the same time in Malibu, CA. in what would later be dubbed the "Nitrous-oxide Incident." He re-enrolled at San Francisco State University to finish up his degree in Sandblasting that he had begun years before. He tried to launch a golfball-swallowing craze.
But what of his early formative years? Ed was born and raised just outside Washington D.C. in Northern Virginia. He vividly remembers sitting at the picnic tables at the public swimming pool eating Sweet-tarts and Red-Hots when Richard Nixon announced his resignation in 1974. Did growing up just outside the Beltway during the turbulent and tumultuous early 70's have a profound influence on young Ed, and help shape him into the kind of songwriter and social critic that he is today? "No" says Ed, staring vacantly into space.
Even through the rocky unstable periods of his personal life, however, Ed Haynes has continued to write songs. Mining the vast resources of his personal experiences, and borrowing the personal experiences of others (with or without their permission), Ed is never at a loss for subject matter to write about. His mantra for many years has been "There have always been the songs, and there will always be the songs." He can be heard repeating this mantra over and over, sometimes in a low barely audible mutter, and other times in loud shrieking banshee-like wails.
Now, with the release of his new album Snacking with a Vengeance, Ed's truly is a rags-to-riches story, only set to music. Except that he never really was in rags, being brought up quite comfortably in a middle-class suburb. And technically speaking, he isn't actually rich. There's no Family Money. Frankly, he'll be lucky if there's any inheritance at all considering the way his retired parents have been painting the town red. They're on a fixed income for gosh sakes! But it's a rags-to-riches story all the same. At the beginning he sucked. But he worked hard and it has paid off for him. I think we all can learn something from the Ed Haynes saga and apply it to our own lives. I know I will. But first I think we should all listen to his new CD.
Map & Directions
Tags for this Event:
Property > Edgefield
Related content (tags):