Saloon & Hotel
836 N. Russell St.
Portland, OR 97227
Saloon: (503) 282-6810
Hotel: (503) 335-8900
Contact Us
Jackstraw
9:30 p.m. |
$8 in advance, $8 day of show |
21 and over
Buy Tickets
Tickets on sale now!
About Jackstraw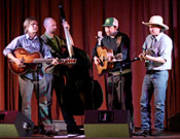 Jackstraw's music springs from the traditional core of bluegrass, mixing original and traditional songs and shaping them through wicked harmonies & ferocious pickin'. Over a decade of playing they've in a variety of settings - rowdy college crowds, smoky nightclubs, outdoor afternoons and family festivals - from San Francisco CA to Atlanta GA, Burlington VT to Whitefish MT. As such, Jackstraw has established itself as one of the preeminent representatives of Portland's boisterous roots scene.
With the members coming from Kansas, Rhode Island, Colorado and Chicago, their different backgrounds and influences and conjoined within a common passion for acoustic music. They all grew up hearing the sounds of guitars, mandolins, banjos and fiddles, taking those sounds deep into our souls. In 1997 Jackstraw came together to pursue music that would deliver a fresh take on the energy, vigor and soul of bluegrass, while remaining true to its spirit and tradition.
"Jackstraw impresses me with their tight-knit, skilled musicianship, their crackling
energy and repertoire which includes both traditional gems and fresh new tunes.
A young band like this helps set the tone for new bluegrass in the 21st Century."
- Pete Wernick, Hot Rize
"Jackstraw has added some much-needed youthful energy to the ranks of contemporary
traditional bluegrass, . . . It'll be a pleasure to hear Jackstraw's next recording."
- Dirty Linen Magazine
", . . . comforting proof that the widening popularity of bluegrass threatens neither
authenticity nor energy."
- John Foyston, The Oregonian
website:
Map & Directions
Tags for this Event:
Music > Americana
Property > White Eagle
Related content (tags):