10000 N.W. Old Cornelius Pass Rd.
Hillsboro, OR 97124
(503) 645-3822
Fax: (503) 439-1059
Contact Us
Seth & May
7 p.m. |
Free |
All ages until 10 p.m.
About Seth & May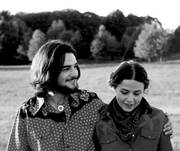 Michigan has, for some time now, been a deep resource for songwriters and roots musicians. Two favorites, Seth Bernard and May Erlewine, well-known to audiences as single acts, have been performing and recording together for almost six years.
Before they teamed up, each paid their dues traveling across the land playing their music and sharing stories with everyone they met. Now they are in constant demand playing festivals all over the country and at venerable folk institutions such as the Ark in Ann Arbor and Garrison Keillor's "A Prairie Home Companion."
Already seasoned songwriters with five solo records each and two duo albums to their names, Seth and May draw from a deep well of American folk, country, blues and soul music. May Erlewine plays guitar and violin and is a songbird reminiscent of Patsy Cline and Patty Griffin. Her songs have been recorded by artists across the country and sung in schools and places of worship. Samuel Seth Bernard has drawn comparisons to Woody Guthrie and Neil Young as a shape shifting folk rocker, community organizer, and communicator of ideas. They harmonize their voices and instruments beautifully, believing music can bring people together and proving so at every performance.
Like all the best folk musicians, they have the ability to get everyone's attention and still a room. With their band, they can captivate and electrify an audience and ignite a dance floor.
Seth and May's common belief in music to strengthen communities and to be a part of positive change has led to collaborations with numerous schools, farms and non-profit organizations. They partnered with best selling author and famed environemtalist Bill McKibben and contributed songs to the www.350.org movement for Climate Change action. They have also fostered the creation of the Water Festival, a series of events in the Great Lakes region dedicated to music and education about preserving water quality and universal access. The best way to find out what Seth and May are about is to listen to their music, either at www.earthworkmusic.com or www.sethandmay.com.
Label:




MySpace page:




website:
Map & Directions
Tags for this Event:
Music > Americana
Property > Rock Creek Tavern
Related content (tags):