Saloon & Hotel
836 N. Russell St.
Portland, OR 97227
Saloon: (503) 282-6810
Hotel: (503) 335-8900
Contact Us
The Lonesome Billies
Country Lips
Saturday, February 9, 2013
9:30 p.m. |
$8 in advance, $8 day of show |
21 and over
Buy Tickets
Tickets on sale now!
About The Lonesome Billies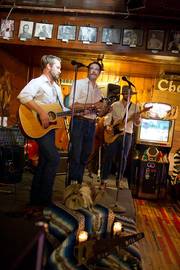 The badlands of western Hazel Dell are not known for much of anything; much less for a band of degenerates known as The Lonesome Billies. You see, The Billies grew up together; from seeds to tumbleweeds, they caroused every square inch of Hazel Dell, and it didn't take long for the Billies to be 86'd from every saloon, honky tonk, and dive they came across. So on they went, banished to the small coastal town of Useless Bay. It's a miserable place where hope crawls away to die and the deadbeats, misfits, and lowlifes welcome you with open arms. Hell, any band with a guitar and half a melody can find a gig in Useless Bay. It was within the putrid confines of Useless Bay that The Lonesome Billies began to brandish their own dark and dusty style of door swingin, boot stompin, whiskey drinkin, gator hootin, country and western music.
Myspace page:




Facebook page:
Map & Directions
Tags for this Event:
Music > Americana
Property > White Eagle
Related content (tags):