at Crystal Hotel
303 S.W. 12th Ave.
Portland, OR 97205
Local: (503) 972-2670
Elsewhere: (855) 205-3930
Contact Us
Kory Quinn w/
Elizabeth Nicholson & Bob Soper
Thursday, February 14, 2013
7 p.m. |
Free |
21 and over
What Kory says about his guests tonight:
"I met Bob Soper through Will West. Bob plays a mean Irish fiddle for Will as well as Grafton Street and Stringed Migration. At the time I was looking for some accompaniment for a few gigs I had booked and was directed to contact him. We set up a rehearsal and the rest is history.  He quickly picked up my originals as well as bringing some Irish tunes to the fold. From there on out he became a regular fixture in the Comrades. Bob and I are cut from the same cloth and I think it shows by how quickly we gelled. He has recorded on every single recording I have made since  moving to Portland. Last but not least he is one my greatest supporters and friends who is able to give great advice on everything from booking to what book to read. He is my brother in arms.
Elizabeth Nicholson is an angelic voice and virtuoso Harpist. She joins Bob in the band Stringed Migration. Honing her skills as a Harp Teacher she plucks away every heartache and trouble to wander into a early morning Irish fog. I met her through Bob and have been fortunate enough to grace the stage of Mississippi Studios as well as the worn wooden floors of several pubs. She is "known for her dynamic, passionate approach to harp performance, she is counted among America's foremost interpreters of traditional Celtic music  -- a genre that features lightning-paced tempos and complex ornamentation that more typically reserve it for melody instruments such as the fiddle or flute.  Her harp studies have also included classical, baroque, renaissance, medieval, and Latin music, and she has stretched the traditional boundaries of the instrument into rock music and country blues. Elizabeth's possesses an elegant command of traditional song -- from the filigreed ornamentation of Irish ballads to the strident tones of Americana."
About Kory Quinn w/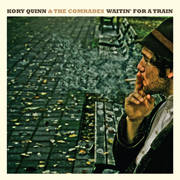 I suppose if one could pinpoint exactly what it is that separates good folk and roots-based music from mediocre schlock, everyone would be getting it right. Obviously, not everyone does-but Portland-by-way-of-Indianapolis singer/songwriter Kory Quinn is one of those whose music not only upholds well-worn traditions but also sounds fresh in the process. It might be a case of believability: Quinn's latest nine-song collection, Waitin' for a Train, carries on the tradition of wandering troubadours and train-hopping drifters, and if that's a romantic notion (it's not entirely fabricated-Quinn recently took a trip across the US by train, although it was funded by Kickstarter, so one presumes he wasn't hopping from boxcar to boxcar), it's one that Quinn imbues with authenticity. In a crowded field of local roots musicians, Quinn stands out as one who's got his bead aimed precisely at the truth.
"[VAGABOND AMERICANA] With his latest album, Waitin' for a Train, Portland troubadour Kory Quinn and his band, the Comrades, break forth with a firm, compelling sort of Americana that is at once hauntingly familiar and entirely Quinn's own. The songwriter's voice, both strained and tender, wafts through a soundscape speckled with sparse percussion and hammering harmonica, perfectly suiting somber lullabies such as the placid "In My Mother's Arms" and the raucous "Runaway Train" with equal vigor. Quinn offers timeless country folk infused with a hint of rock, the kind of music that has been listened to for generations and will remain relevant for decades. "
"Beyond that, the details of the Comrades are a mystery, but that's fine, because stark, haunting but brilliantly rendered songs such as "Shoes of the Dead," "You Ain't Coming Back," "Austin" and "Under the Gun" succeed because of their dark and twisted layers and the many lingering questions of that vaunted "old, weird America."" -Jim DeRogatis, Sound Opinions and The Chicago Sun-Times
"Train-Hoppin, Foot-Stompin', Hobo-Blues" --Rob Stroup, Eight-Ball Studios, Portland, OR
"Kory Quinn is a writer of personal experience and a singer of cross-country adventure, frequently woven into a prayer rug of justice. With a hobo twang as sharp as a 9-ball break, Kory Quinn effectively transposes the eternal troubadours like Woody Guthrie, Ramblin' Jack Elliot, and Bob Dylan into Two-Thousand-and-Ten. Since April, 2010 Kory Quinn has self-released one EP, "The Drifter" and one Album, "Bound for Glory" through his record label Ma and Pa Records and with the help of Rob Stroup of Eight-Ball Studios. He is set to self-release his second album on October 31st "Shoes of The Dead". There is also in the works a third Album "State of The Union" to be released in January. Kory is also co-founder of the Portland Field Recording Project. --Matt Kalinowski, Noctilucent PR
Bandcamp:




ReverbNation:
About Elizabeth Nicholson & Bob Soper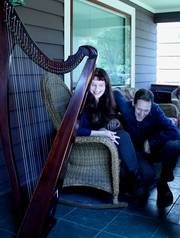 Irish harp, North Indian sarod, Greek bouzouki, Middle Eastern and African percussion, Irish and Appalachian fiddle, folk guitar and harmony vocals--no one has ever been able to reach a final tally on just how many instruments Elizabeth Nicholson and Bob Soper play, or how many cultures influence their music. Duo partners for seven years, they also share the dual role of fronting the critically acclaimed international roots quintet Stringed Migration. Their music has been hailed as "performed with the sort of resonance that separates masters from neophytes" (Jerome Clark, rambles.net, 2009), and has been featured on NPR's The Thistle and Shamrock, The Midnight Special, and hundreds of other radio programs worldwide.
Considered among the top American interpreters of Irish traditional music for harp, Elizabeth Nicholson's harp studies have also included classical, Paraguayan, and medieval music, and she has stretched the traditional boundaries of the instrument into rock music and country blues. Her 2006 CD of traditional and original music, Sink or Swim was released to widespread critical praise and international airplay, and was chosen "Folk Album of the Month" on Iowa Public Radio.
Bob Soper is counted among Portland's most astonishingly versatile multi-instrumentalists. A rock and jazz drummer from a young age who also studied classical Indian music at the Ali Akbar College, he went on to learn the Irish fiddle, ultimately becoming one the Northwest's most sought-after players. Also an accomplished guitarist, bouzouki player and vocalist, he's been a member of some of the region's most beloved and successful ensembles, including the Irish bands C'l an T' and Grafton Street, as well as the old-time/country-blues group The Pagan Jug Band.
Map & Directions
Tags for this Event:
Music > Americana
Property > Crystal Hotel
Related content (tags):