A truly remarkable destination.
2126 S.W. Halsey St.
Troutdale, OR 97060
Local: (503) 669-8610
Elsewhere: (800) 669-8610
Contact Us
Oh Darling
Thursday, January 17, 2013
7 p.m. |
Free |
21 and over
About Oh Darling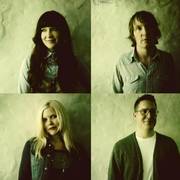 L.A.-based quartet Oh Darling's buoyant new-wave pop has the power to turn the most forbidding club?crowd into a sea of grinning fan-geeks. But their reach extends well beyond area venues - several Oh?Darling tunes have graced top-rated TV series, film and commercials. Their latest album, Brave the Sound,?has already won over a bevy of new admirers.
Recorded in the band's home studio in L.A.'s Echo Park neighborhood, produced by guitarist Daven Hall?and co-produced/mixed by Nathanael Boone (Power), the new album - Oh Darling's third - includes such?tunes as the infatuation singalong "Prettiest Thing", the insistent romantic march "I Know (You Feel It),"?and the exuberant "Gonna Be Yours." The foursome recently shot a video for the latter song, which was?featured on the tastemaker blog Buzzbands.la.
Even listeners unfamiliar with Portland native Oh Darling's name may well recognize songs like the?spiky, infectious "I Like You, Baby," the edgy, compact rocker "Never Go Too Far," the tender "Love", the?whimsical "Happiness" and the winsome "Colorful Day," which have been featured on such TV series?as the CW's One Tree Hill, Lifetime's Drop Dead Diva, ABC's Ugly Betty, Fox's "Bones" and USA's Royal?Pains, as well as commercials for Volkswagen, network promos for Grey's Anatomy and Gossip Girl. Most of?these appeared on the band's eponymous 2009 self titled sophomore album, which follows their critically?adored 2008 debut, Nice Nice, both produced by Gregg Williams (Blitzen Traper, Dandy Warhols).
Moreover, their track "Prettiest Thing" can be heard on the Disney soundtrack and in the film Prom.?Additional songs from Brave The Sound can be heard across the country in stores such as The Gap, Urban?Outfitters, Old Navy, Pinkberry, Origins, BCBG and more. In 2011, the band was selected to be part?of evian's "Live Young" campaign, supporting promotional efforts for the world's #1 brand of premium?natural spring water throughout the L.A. area.
Daven, singer-keyboardist Jasmine Ash, bassist J.Marie Hall and drummer Jake Endicott began playing?together in 2006 in Portland, Oregon; L.A. became their base of operations in 2009. Ash's gossamer?vocals are undergirded by surprisingly muscular arrangements and wild tempo shifts, as the band?alternates melodic sweetness with propulsive rock. Daven's incisive guitar lines and the tight rhythmic?interplay of J.Marie and Jake evoke influences as diverse as Blondie, Camera Obscura, Metric, Kate?Bush, Phoenix, Cocteau Twins, Stars, Little Dragon, Best Coast, The xx, Crystal Castles and Eels. The?net effect, judging by the words of admiring reviewers, is equal parts enchantment and energy.?"It's impossible not to get a contact buzz from the band's buoyant, charming pop," declared the Portland?Tribune. "Fronted by one of the cutest gals in town, Oh Darling possess an intriguing yet subtle mix?of sexual tension, plus plenty of indie pop goodness in their delivery," proclaimed the music blog?NadaMucho. "Jasmine Ash knows how to write catchy pop songs as delicious as Cheerios in chocolate?milk." Flavorpill, meanwhile, praised their "intoxicating blend of indie rock" and "unapologetic, perfectly?crafted pop punch." The Vanguard admired their "wealth of adorable melodies" and "healthy propensity?for matching outfits". Jasmine and J.Marie do indeed tend to coordinate their vibrant retro wardrobes?onstage, eschewing sexpot clichés in favor of classic, colorful, vintage frocks. Buzzbands LA states, "It's?exuberance set to melody, and for indie-pop fans that never gets old."
Oh Darling have toured up and down the West Coast numerous times and appeared at venues like the?Doug Fir, Mississippi Studios, Bottom of the Hill, Cafe Du Nord, Viper Room, Satellite (Formerly Spaceland), The Roxy Theater and the Hotel Café; they've shared stages with indie favorites like The 88, Fitz & The Tantrums, White Sea, Anya Marina, Alberta Cross, The Features, Asobi Seksu, The Submarines, Shonen Knife, The Duke Spirit, Everest and The Belle Brigade. Everywhere they've gone, they've left audiences spellbound and smiling.
Map & Directions
Tags for this Event:
Property > Edgefield
Related content (tags):