10000 N.W. Old Cornelius Pass Rd.
Hillsboro, OR 97124
(503) 645-3822
Fax: (503) 439-1059
Contact Us
Will West w/Groovy Wallpaper
Saturday, January 12, 2013
9 p.m. |
Free |
All ages until 10 p.m.
About Will West w/Groovy Wallpaper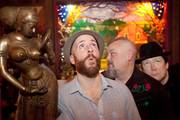 Carolina-born songwriter Will West performs with a rotation of acoustic musicians called The Friendly Strangers, featuring an array of fantastic Portland players on banjo, cello, mandolin, horns, percussion and other surprises. Together they create a signature acoustic sound blending Old Time Roots and Folk Influences with Modern Inspirations & Positive Vibes. They tend to improvise and experiment, and they have a great time doing it.
For tonight's performance, The Friendly Strangers will feature Skip vonKuske (Portland Cello Project, Vagabond Opera) on cello/mandolin and Don Henson (Sneakin' Out) on percussion. Combining Skip & Don's improvisational skills with the signature acoustic sounds of Will West, they create a unique blend of Folk, Roots, Bluegrass and Psychedelic music. Skip vonKuske & Don Henson are "Groovy Wallpaper".
It's sure to be a fun night on this roller coaster ride of acoustic sounds and unique instrumentation.....
Will West & The Friendly Strangers are cruising along after the release of their 2nd album called "Sunshine" in July 2012. Performing in various Northwest Festivals & Outdoor Concert Series during the Summer of 2012. Songs have been featured on KNRK 94.7, KINK fm 101.9 and KZME 107.1 in the Portland area.
They released their debut album called "Take this Moment" in January of 2011. The song "Understand" was featured on the KINK FM Local's Only CD Volume 4 in the summer of 2011. The album was nominated for "Album of the Year" by the 2012 Portland Music Awards and it has recently launched as a new station on Pandora Radio.
The son of a fiddle player, West cites Old-Time Bluegrass, Blues and Heavy Metal music as some of his early influences. West moved to Portland in the summertime of 2002 and began cutting his teeth as a performer at Open-Mics and busking in Northwest Portland. He picked up his first formal gigs in 2004 and has been on a steady rise in the vibrant Northwest Music scene.
Will West has released 2 solo albums. A collection of live studio recordings called "Reconstruction" in 2004. As well as a full length studio album called "Shine" in 2007.
His live performances continue to evolve and change. As a solo performer or with variations of a band, West pulls off fantastic acoustic guitar playing with smoothly delivered vocals and harmonica. Each show is an experience and it's all about the vibe...
Map & Directions
Tags for this Event:
Property > Rock Creek Tavern
Related content (tags):