10000 N.W. Old Cornelius Pass Rd.
Hillsboro, OR 97124
(503) 645-3822
Fax: (503) 439-1059
Contact Us
Truckstop Darlin'
Saturday, January 5, 2013
9 p.m. |
Free |
All ages until 10 p.m.
About Truckstop Darlin'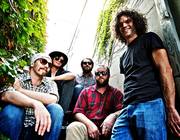 Truckstop Darlin' comes out of the amazing music scene of the Great Northwest, more specifically, Portland, Oregon. Despite being loud and thundering, Truckstop Darlin' wear their hearts on their sleeves; if Wilco grew up listening to Lucero's harder moments, it might sound something like this. Their live shows are a sweaty, fist-pumping riot soaked in cheap beer and whiskey and while most bands who fall under the alt-country umbrella focus more on the country part, Truckstop Darlin' keeps their amps turned up. These boys play honest, driving rock n' roll.
Check 'em out:
Map & Directions
Tags for this Event:
Property > Rock Creek Tavern
Related content (tags):