Sponsored by The Northwest Examiner and the Oregon Historical Society
Oregon Craft Beer Month
Kickoff and Toast
Special Guest
Gov. Barbara Roberts
"The Roots of Beervana & Hoptopia: Oregon's Thriving Brew and Hop Culture of the 1840s to Early 1900s"
Special Oregon Encyclopedia History Night
Screening of OPB's "Beervana"
with Special Guests
Filmmaker Beth Harrington
OPB Producer Nadine Jelsing
Special Event Beers
City Pilsner
Steamship Common
--
5 p.m. doors; 7 p.m. event |
Free; half of all food and drink proceeds to be donated to Friends of Lone Fir Cemetery |
21 and over
About Oregon Craft Beer Month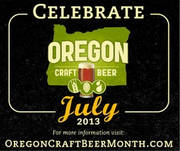 July is Oregon Craft Beer Month, a time to celebrate the many handcrafted ales, lagers, pilsners and stouts that McMenamins brews right onsite at many of our properties. So we're toasting this auspicious month with special beer events and tastings.
Oregon Craft Beer Month:




Oregon Brewers Festival:
About "The Roots of Beervana & Hoptopia: Oregon's Thriving Brew and Hop Culture of the 1840s to Early 1900s"
Schedule
(subject to change)
5:00 p.m. • Doors and taps are open
6:00 p.m. • Official Oregon Brewers Guild kick-off toast
6:30 p.m. • A few words from Gov. Barbara Roberts
7:00 p.m. • Presentations by Tim Hills and Peter Kopp
9:30 p.m. • A screening of OPB's Beervana, followed by a Q&A with Beth Harrington and Nadine Jelsing
The state of Oregon has a long, proud heritage of brewing and hop-growing operations, many flourishing even before Statehood in 1859. However, the quick rise and eventual dominance of the industry by Henry Weinhard led to his great fame and the veritable erasing of names and contributions of other pioneer brewers and hop farmers from history. This program shines a light on those forgotten pioneers and their accomplishments.
Presentations by Peter A. Kopp, Assistant Professor, New Mexico State University and author of forthcoming book, Hoptopia: Agriculture, Beer, and Place in Oregon's Willamette Valley; and Tim Hills, McMenamins Historian, with valuable contributions from intrepid researcher, Peri Muhich.
Half of the night's food and drink proceeds to be donated for the restoration of pioneer brewer George Frederick Bottler's mausoleum at Portland's Lone Fir Cemetery, an effort spearheaded by the Friends of Lone Fir Cemetery, Rachel Fox, manager of Metro cemeteries, and Governor Barbara Roberts.
Rachel Fox of Metro cemeteries will make a brief statement/update about the restoration of the mausoleum of George F. Bottler at Lone Fir Cemetery.
Following the presentations will be a showing of Oregon Public Broadcasting's Oregon Experience: Beervana. Filmmaker Beth Harrington and Oregon Experience Producer Nadine Jelsing will be in attendance.
About Special Oregon Encyclopedia History Night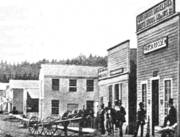 The Oregon Encyclopedia hosts a series of History Nights in collaboration with McMenamins pubs. Come join us for an enlightening evening of history, served up with food and a pint or two of good beer, and find out more about the history and culture of our state from OE authors. Bring your encyclopedia-worthy Oregon stories to share with the OE Editors-in-Chief.
Oregon Encyclopedia website:
About Screening of OPB's "Beervana"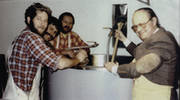 In 1852, beer came to the Northwest, quenching the thirsts of loggers, miners, fisherman and farmers. Today Portland is the beer capital of the world. The story of the industry through compelling and amusing anecdotes of the Oregon beer community.
"Beervana" was a phrase coined in Oregon to describe the burgeoning craft beer movement that had taken hold here in the 1980s. And indeed, it's an apt description, as those who are actively involved in the beer community think of it a near-religious experience to make and enjoy well-made brew.
But Beervana also describes the transcendent union of climate and environment which makes Oregon the home to great hops growing and affords the brewmasters the highest quality water.
These forces made it possible for early immigrant braumeisters to come to this place and succeed making a product that legions of thirsty workers would enjoy as they shaped the place we now call home.
OPB's Beervana website:
About City Pilsner
This is an ode to the early lagers brought to the Pacific Northwest by European immigrants. Pilsners are generally light-colored, clean-flavored beers with a distinct hop aroma; this beer is no exception. The name recognizes early Portland area brewing pioneer George Bottler, proprietor of City Brewery and early partner of Henry Weinhard. After acquiring City Brewery following Bottler's death, Weinhard expanded that location to become the Blitz-Weinhard brewery, operating in Portland till 1999, and now affectionately termed The Brewery Blocks. So join us in commemorating the rich history and tradition of Portland's beer community and raise a glass of this delicious 21st century approach to a beer style equally rich!
Malts: Superior Pilsen, Vienna, Carapils
Hops: Simcoe, Sterling, Tettnanger
OG: 1.055 TG: 1.009 ABV: 5.93 IBU: 48 SRM: 3
About Steamship Common
This is another beer steeped in history and tradition. Steamship Common is a California common style or "steam beer," which is a hybrid inspired by the early crisp, clean, European lagers. Brewed using traditional lager yeast fermented at a slightly warmer temperature, due the temperate environment of the Pacific Northwest, resulting in a clean, flavorful and quaffable beverage. This style is narrowly defined around Fritz Maytag's Anchor Steam, which is an amber-hued beer that has a solid malt backbone and a distinctive hop presence attributed to the Northern Brewer hops, providing evergreen, woody and minty overtones. Brewed with organic malts, this beer represented the Edgefield Brewery at this year's 9th Annual North American Organic Brewers Festival.
Malts: Organic 2-Row, Organic Rolled Oats, Organic CaraPils, Organic Crystal 15, Organic Crystal 40
Hops: Nugget, Perle, Northern Brewer
OG: 1.055 TG: 1.009 ABV: 5.93 IBU: 38 SRM: 8
About --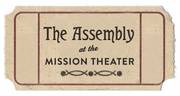 ... The Assembly
The Mission Theater -- the place that first put beers into the hands of Portland theater-goers so many years ago -- has proudly introduced a new line of programming, dubbed "The Assembly."
While retaining its relaxed environment, comfortable seating and matchless sightlines, the Mission is dropping its second-run movies, stepping up its food and beverage offerings, and -- best of all -- evolving the theater's programming dramatically. The core of The Assembly features film screenings with related lectures, interviews, and performances that bring cinema to life. And fans of Mortified, Miz Kitty and live music will be happy to learn that many of the live performances that we've all loved over the years will continue. After all, The Assembly's primary mission -- engaging audiences with events that are both enriching and entertaining -- has few boundaries!
So get your curiosity on and gather with us at The Assembly. There's a lot of world out there.
Map & Directions
Tags for this Event:
Events:
Beer, Wine, and Spirits
History
Property > Mission Theater
Related content (tags):