PDXJazz presents
PDXJazz @ the MissionTheater
The Jenny Scheinman Trio Featuring Bill Frisell and Brian Blade
Saturday, January 5, 2013
9:30 p.m. (late show) |
$25 advance, $25 day of show |
21 and over
Buy Tickets
Tickets on sale now!
About The Jenny Scheinman Trio Featuring Bill Frisell and Brian Blade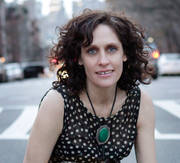 "There is an emotional element to [Scheinman's] playing that makes her music deeply satisfying." - Wall Street Journal
"[Scheinman is] simply one of the most versatile musicians working today; someone who composes and arranges frequently, tours as a country singer-songwriter and plays with Bill Frisell, Jason Moran and Norah Jones." - NPR.org
Scheinman is reuniting with the trio following a successful residency at New York City's Village Vanguard in December 2011. The violinist has a long-standing relationship with Bill Frisell--who over the years has always encouraged her to take a bit of the spotlight, both on his acclaimed albums and during his live shows--and has said, "I've been playing with Bill since I was in my early twenties; mostly in his bands and recordings, but also in my own. He's a dear friend and major musical inspiration and influence." On her partnership with Frisell and Blade at the Vanguard, Scheinman noted, "When Lorraine Gordon asked me to do two weeks at the Vanguard, I decided to present two disparate groups, first my little rock band Mischief & Mayhem, and the other in a more intimate context with Bill, duo. It was like this for many months, just Bill and I. Then one morning I woke up with Brian Blade in my head. He's someone I've never played with, barely know, but admire immensely. He said YES! So we are a trio."
In addition to this masterful trio, Scheinman has found herself working alongside such lauded artists as Lucinda Williams, Norah Jones, Rodney Crowell, Jason Moran, Madeleine Peyroux, and Lou Reed. She concluded a 50-date North American tour with Bruce Cockburn, as the opening act and member of his trio. Her playing and singing continues to be featured on outstanding albums such as Bill Frisell's Sign of Life as well as his tribute to John Lennon (All We Can Say), Bruce Cockburn's Small Source Of Comfort, Madeleine Peyroux's Standing on the Rooftop (on which she co-wrote several songs), and she wrote and performed string arrangements on Lou Reed and Metallica's latest album, Lulu.
From 2003 to 2011, Scheinman was named the "#1 Rising Star Violinist" by the DownBeat Magazine Critics Poll and has been listed as one of their "Top Ten Overall Violinists." Her fourth instrumental release, 12 Songs, was named by the New York Times (Ben Ratliff) as one of the Top Ten Albums of 2005. In 2008, Scheinman released her fifth instrumental release, Crossing The Field, and her debut vocal album, Jenny Scheinman, which received national press attention in such distinguished publications as Rolling Stone, Billboard, Wall Street Journal, and the New York Times.
As for her band mates, Bill Frisell has been described as being "at the very epicenter of modern American music" (BBC), with a career as a guitarist and composer that has spanned more than 35 years and over 250 recordings, including 40 albums of his own. He has collaborated with a wide range of artists, filmmakers and legendary musicians, but it is his work as a leader that has garnered increasing attention and accolades. Frisell's recording catalog has been cited by DownBeat as "the best recorded output of the decade." It includes his most recent albums for Savoy - Sign of Life with the 858 Quartet, his trio recording Beautiful Dreamers and his new collection of interpretations of the music of John Lennon.
Frisell's Nonesuch output spans a wide ranging wellspring of musical expression - from original Buster Keaton film scores to arrangements of music for extended ensembles with horns and strings (the GRAMMY® Award-nominated History/Mystery, the GRAMMY® Award-winning Unspeakable, Blues Dream and This Land); interpretations of work by other classic and contemporary American composers (Have a Little Faith); collaborations with the acclaimed rhythm section of bassist Viktor Krauss and drummer Jim Keltner (Gone, Just Like a Train, Good Dog, Happy Man). In 2006, Frisell was named a USA Rasmuson Fellow grant recipient offered by United States Artists. He is also a recipient of grants from Meet the Composer and National Performance Network.
Brian Blade is a multi-talented veteran, widely respected in the jazz world as drummer/composer/leader of Brian Blade and The Fellowship Band, with whom he has released three albums. He is also known as the drummer for many heroes of the music world, including Bill Frisell, Daniel Lanois, Joni Mitchell, Bob Dylan, Wayne Shorter, Seal and Emmylou Harris. Blade is always searching for the balance that gives a song a personal story with an outward reaching resonance.
In 1998, Brian and Jon Cowherd began recording music with their group Fellowship. The band members also include Chris Thomas, Myron Walden, Kurt Rosenwinkel and Melvin Butler. They have released 3 albums together - Fellowship and Perceptual, both on Blue Note, and the 2008 Verve recording, Season of Changes. Since 2000, Brian has been part of the Wayne Shorter Quartet with Danilo Perez and John Patitucci. In 2009, Blade released his first recording as a singer, guitarist and songwriter: Mama Rosai (Verve).
With such a lauded personnel, The Jenny Scheinman Trio is able to draw upon not only cumulative decades of individual creation and years of collaboration (such as between Frisell and his two band mates separately), but also music written with this group in mind.
website:




audio:
Map & Directions
Tags for this Event:
Music > Jazz
Property > Mission Theater
Related content (tags):