3702 S.E. Hawthorne Blvd.
Portland, OR 97214
Pub: (503) 467-7521
Movie Line: (503) 249-7474 x1
Contact Us
Trek at the Bagdad: Two Special Holiday Showings
Trek at the Bagdad
Star Trek IV (PG) [1986]
"Journey to Babel" [1967]
Live Scene Fest
12 noon doors; 1 p.m. show |
$6 per person |
All ages welcome
Buy Tickets
Tickets on sale now!
Brush up on your Klingon for this special two-show engagement at the historic Bagdad Theater.
Early Showing
Doors at 12 noon • $6 • (All ages welcome):
1:00-2:00 "Journey to Babel" Screening
2:15-2:45 Scene fest (live on stage)
3:00-5:00 Star Trek IV
Late Showing
Doors at 6 p.m. • $6 • (21 & over):
7:00-8:00 "Journey to Babel" Screening
8:15-8:45 Scene Fest (live on stage)
9:00-11:00 Star Trek IV
About Star Trek IV (PG) [1986]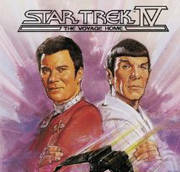 To save Earth from a destructive space probe, Kirk and his fugitive crew go back in time to 20th century Earth to recover two humpback whales, who are the only Earth beings who can respond to it.
About "Journey to Babel" [1967]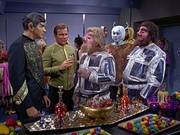 The Enterprise is transporting several diplomatic delegations to a conference on the future of the mineral-rich planet Babel. Among the passengers are Spock's parents, Ambassador Sarek and Amanda. There is much tension among the delegations, and a spy on board is transmitting coded messages to another ship.
Map & Directions
Tags for this Event:
Movie Types > All Ages
Property > Bagdad
Related content (tags):