Bright Archer
Plus Extra Saturday Goodies
Saturday, October 13, 2012
7 p.m. |
Free |
21 and over
About Bright Archer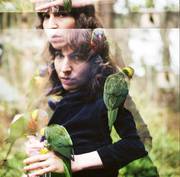 Bright Archer's music is as hypnotic as snow falling on water. Sounding at once vast and muted, the music centers on the voice and ornate piano playing of Johanna Kunin. Growing up in Minneapolis, Kunin grew attached to piano playing at an early age. Childhood afternoons spent poring over field guides and summers whiled away exploring the Boundary Waters also cultivated an early fascination with the natural world and her place in it. But instead of becoming a naturalist, Kunin gravitated toward music, singing with the Minnesota Opera Company as a child and getting a jazz education during her college years in Seattle. She was in her twenties by the time she discovered songwriting, a medium through which she could combine her interest in the natural world with music. After her first couple demos earned her a grant, Kunin met Tucker Martine who went on to produce her first full-length album, Clouds Electric. It was released in 2006.
The making of her second album, Hidden Systems, marked a turning point for Kunin. Quickly immersing herself in the rich musical community of Portland, OR - which she would eventually join - and at the production helm for the first time, she chose a new musical moniker, Bright Archer, to better reflect her music's evolving sound. On a series of winter weekends, Kunin co-produced the album with Skyler Norwood at his studio outside Portland and found 70s-rock inspiration on the radio dial while commuting from Seattle. Kunin and Norwood fashioned arrangements in the studio, borrowing a french horn player here and a bass player there from the bevy of bands Kunin plays in (Loch Lomond, AgesandAges, Velella Velella). Though all songs still center on Kunin's lush voice and piano; a chorus of orchestral instruments, vibraphone and playful keyboard sounds allow each of the new songs to take on ornate lives of their own. The resulting music is rife with surreal atmospheres, melodic vocal lines and rhythmic piano backdrops. Lyrically, songs proceed in a wide-eyed, dreamlike fashion with the subject matter drawing portraits of the ephemeral, the ambiguous, and the fragile. Bright Archer will capture your imagination and remind you what it's like to look at the world with eyes anew.
About Plus Extra Saturday Goodies
You like beer, right? And free food? And getting to know, you know, cool people? Well every Saturday night at Al's Den, we'll have generous samples of a special, limited-release beer from the Crystal Ballroom Brewery, plus free passed appetizers from Zeus Café (we ain't just talkin' tater tots here, either) and a live interview with the band. Come check it out -the food & drink are divine, the crowd is friendly, and the energy is buzzing.
Map & Directions
Tags for this Event:
Property > Crystal Hotel
Related content (tags):