McMenamins
---

---
A Place for Family & Friends...
Never Strangers
Wilsonville Amphitheater |
Thursday, September 6, 2012
7 p.m. |
Free |
All ages welcome
About Never Strangers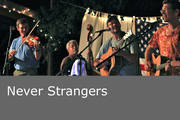 Using bluegrass/Americana/roots style, songs range from old and traditional to original and freshly written, from serious and thought provoking to light hearted, from upbeat to slow, and from focused on afar to searching for the spirit of our home turf. Never Strangers brings to the mixing pot a rich range of experience from bands based in Seattle, Eugene, New Hampshire, and Goldendale. Their goal is to contribute the spirit of live music to enrich community events.
Official Website:
Tags for this Event:
Music > Americana
Property > Wilsonville Old Church & Pub