"Dean Obeidallah For Vice President Tour"
Dean Obeidallah
Melissa Soshani
Khaled the Comic
Saturday, September 8, 2012
7 p.m. doors, 8 p.m. show |
$25 advance, $25 day of show, limited $15 student tickets available with ID at the door and Crystal Box Office |
21 and over
Buy Tickets
Tickets on sale now!
About Dean Obeidallah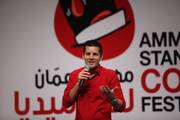 "Dean Obeidallah is a gruff-voiced, shoot-from-the-hip New Yorker...fresh and clever." ~ San Francisco Weekly
The Washington Post called Dean: "an angsty Arab Chris Rock."
Born in the Great State of New Jersey, Dean's comedy comes in large part from his unique background of being the son of a Palestinian father and a Sicilian mother. Dean, an award winning comedian who was at one time a practicing attorney, has appeared on "The Axis of Evil" Comedy TV special which aired in the US on Comedy Central and in the Middle East on Showtime Arabia.
Dean is currently co-producing/co-directing a documentary entitled "The Muslims are Coming!" featuring a stand up comedy tour of Muslim-American comedians performing free shows across the South and West in the hopes of fostering understanding. The film features interviews with The Daily Show's Jon Stewart, MSNBC's Rachel Maddow, CNN's Soledad O'Brien, comedians Lewis Black, David Cross and many more.
He was also the co-creator of Comedy Central.com's critically acclaimed Internet series "The Watch List" featuring a cast of all Middle Eastern-American comedians .
Dean has appeared twice on ABC's "The View," and was one of five comedians profiled in the one hour PBS TV Special entitled: "Stand Up: Muslim-American Comics Come of Age." He has also appeared on numerous international and national television and radio programs including NBC's "Rock Center" with Brian Williams, MSNBC's "Up with Chris Hayes," CNN's Newsroom, "The Joy Behar Show," ABC's "Nightline," PBS' "Newshour with Jim Lehrer," HD's "Dan Rather Reports," Fox News' "Geraldo at Large," Al Jazeera's "Min Washington," MBC's morning show, "Democracy Now with Amy Goodman," NPR's "All Things Considered," BBC World Radio, Japan's NHK TV, and CNN International's "Inside the Middle East." In addition, he has been featured in various publications including Time magazine, Newsweek, The New York Times, The Washington Post, The Wall Street Journal and The Los Angeles Times. Dean writes frequently for The Huffington Post and CNN.com.
;
Dean is proud to have received the first annual "Bill Hicks Spirit Award" for "thought provoking comedy" (named after the late comedian Bill Hicks) from the NY Underground Comedy Festival and the Hicks' Family.
Dean is the co-creator and co-producer of the annual NY Arab-American Comedy Festival and serves as the Executive Director of The Amman Stand up Comedy Festival - the first stand up comedy festival ever held in the Middle East.
He also co-created the comedy show "Stand up for Peace" along with Jewish comic Scott Blakeman which they perform at colleges across the country in support of peace in the Middle East and fostering understanding between Arab and Jewish-Americans. (www.standupforpeace.com)
In addition to performing comedy throughout the US, Dean has performed across the Middle East
Website:
About Melissa Soshani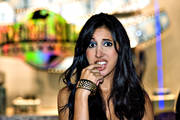 Melissa Shoshahi is an Iranian-American stand-up comedian and actress based in Los Angeles. Performing in venues all over the country, Melissa brings her witty personality to the stage and knows no limits when it comes to comedy-discussing thoughts on her perspective on life to her unique upbringing into society. Her edgy comedy can be best described as 'beautiful, so beautiful' by her mother.
About Khaled the Comic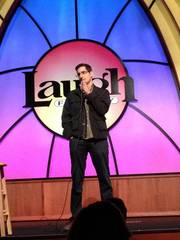 Khaled the Comic currently resides in Chicago and has performed at a wide range of comedy clubs all over the US and Canada. He was featured in the Best of the festival show in the 2011 NY Arab-American Comedy Festival.
Map & Directions
Tags for this Event:
Property > Mission Theater
Related content (tags):