A truly remarkable destination.
2126 S.W. Halsey St.
Troutdale, OR 97060
Local: (503) 669-8610
Elsewhere: (800) 669-8610
Contact Us
Great Northwest Music Tour
Oktoberfest at Edgefield
Rose's Pawn Shop
The Wild Yodeler & Polka Queen
Sassparilla
Danny Barnes
McDougall
Underscore Orkestra
Fast Rattler
Chervona
Gypsy Heart Tribal
Julie McCarl
High Five Polka Band
Plus golf tourney and plant sale!
Sunday, September 23, 2012
11 a.m. golf tourney; 11 a.m. music begins; 12 noon plant sale |
Free |
All ages willkommen!
Every month the Great Northwest Music Tour blazes a fresh musical trail, bringing an ever-changing lineup of talent to McMenamins Historic Properties. There is no admission charge to the festivities, and our unique hotels offer food, handcrafted beverages and a cozy place to bed down after the last note is played. Bring your friends and family and jam to a different artist every month.
** SCHEDULE **
All events free and all ages unless noted
11 a.m.: Oktoberfest Golf Tourney · 10 a.m. check-in (Pub Course)
11 a.m.: High Five Polka Band (Loading Dock)
12 noon 'til 5 p.m.: Oktoberfest Plant Sale (Blackberry Hall)
1 p.m.: Julie McCarl (Little Red Shed)
1 p.m.: Chervona (Loading Dock)
2:30 p.m.: Gypsy Heart Tribal (Little Red Shed)
3:30 p.m. Underscore Orkestra (Loading Dock)
3:30 p.m.: Fast Rattler (Little Red Shed)
5 p.m.: McDougall (Winery · 21 & over)
5:30 p.m.: Sassparilla (Little Red Shed)
5:30 p.m. Danny Barnes (Loading Dock)
7 p.m.: The Wild Yodeler & Polka Queen (Winery · 21 & over)
8 p.m.: Rose's Pawn Shop (Loading Dock)
About Oktoberfest at Edgefield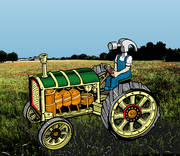 When you imagine Oktoberfest, what comes to mind? Oom-pah bands, loads of beer, bratwurst and hamburgers and more! One and all are welcome to participate in the German celebration that is Oktoberfest! Begun as a wedding party for Germany's Crown Prince Ludwig and Princess Therese in 1810, today Oktoberfest is celebrated all over the world with music, singing, dancing, beer, food and revelry.
About Rose's Pawn Shop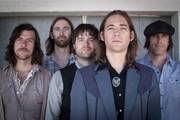 Rose's Pawn Shop is:
Paul Givant - Lead Vocals, Guitar & Banjo
John Kraus - Banjo, Electric Guitar & Vocals
Tim Weed - Fiddle, Mandolin & Vocals
Stephen Andrews - Upright Bass & Electric Bass
Christian Hogan - Drums & Vocals
It may come as a surprise to hear the foot-stomping strains of Appalachian bluegrass channeled through a rock band here in Los Angeles, but heartache, loss and regret have always been the cornerstones of great music and this city has its share. In a town better known for porn stars and face lifts, anything as authentic and heartfelt as Rose's Pawn Shop, is a pleasant surprise.
Singer-songwriter Paul Givant grew up on the disparate array of popular musical styles any late 20th century kid did. And in that mishmash of rock, punk, country, pop, rap, and all the rest, it was American Folk and Bluegrass music that rooted deepest in Paul, transforming him and his songs. Having played in various rock bands since early high school, in 2004 Paul decided it was time to take his growing batch of old style/new school folk songs, and build them into something greater, more ferocious. The songs were there, volatile, almost flammable, but if they were to attain their potential greatness, he was going to need help
As so many fortuned events unfold, it was through a series of chance meetings, twists of fate, and Craig's List, that Paul met kindred spirits in Sebastian St. John, Derek O'Brien, Bill Clark, Derek Swenson, and John Kraus. And in 2005 they began building the music and the band that would soon be known as Rose's Pawn Shop. This group of young musicians combined in their collective musical melting pot the old style American sounds of Woody Guthrie, Bill Monroe, and Hank Williams, the high energy punk of The Ramones, and The Pogues, and the melodic songwriting sensibilities of Elliott Smith and The Beatles. They were creating something musically unique and yet imbued with a familiarity and accessibility.
The final ingredient was added one fateful day when Paul's scorned ex-girlfriend/former band mate in an act of revenge stole the band's instruments and gear and took them down to the local pawn shop. Priceless. Rose's Pawn Shop was born... The match was lit.
In spring of 2006 after months of playing live and breaking ground around Los Angeles, the band recorded and released their debut album "The Arsonist". The album quickly began receiving critical praise from print and online publications as varied as "About.com", "The Daily News", "Miles of Music", and "Music Connection". A month after its release, Rose's Pawn Shop showcased and won the grand prize in Billboard Magazine and Discmaker's: Independent Music World Series. And in the summer of that year, the members of Rose's Pawn Shop dared to quit their day jobs and hit the road, and what had started as a slow and steady burn, began spreading like wildfire
They have been touring the United States nearly non-stop ever since. On any given day you might find Rose's Pawn Shop playing the Georgia Theatre in Athens, busking the streets of Jackson Square in New Orleans, opening for Jack White and The Raconteurs at the Henry Fonda Theatre in Los Angeles, ripping the walls off the club in their month long residency at the Parkside Lounge in New York City, or hitting the main stage of Floydfest in Virginia. On any given day they're out there, growing their music, igniting their passion, and converting an ever increasing congregation of loyal fans
In early 2010, Rose's Pawn Shop entered the studio with renowned producer Ethan Allen (Patty Griffin, Better Than Ezra, Counting Crows, Luscious Jackson, The 88, Gram Rabbit) to record the second album, "Dancing On the Gallows." In recording the new record, Rose's Pawn Shop found themselves rising to new level song craft and sound experimentation, while retaining the same fiery intensity and excitement of their early material. The highly anticipated album is slated for an early August 2010 release.
What do they sound like, you ask?
With an arsenal of banjos, guitars, mandolin, fiddle, pedal steel, upright bass, and thundering drums, their sound is a wholesome mishmash of creek mud, rusty nails and your mom's cookin'. It's sincere, straight-forward and sexy as fuck, effortlessly combining such disparate musical styles as rock, country, bluegrass, and punk to create an incomprehensibly smooth and accessible sound for true believers and skeptics alike.
With wisdom beyond their years, they fearlessly confront traditional country music themes of loss, lamentation, and redemption, while throwing in some drinking-songs for good measure. Sure, they're borrowing pages from the books of Hank Williams, Bill Monroe, and Johnny Cash, but Rose's Pawn Shop takes those pages, tears them up and sets them on fire with breakneck speed, bluegrass instrumentation, 3- and 4- part vocal harmonies and lyrics that'll break your heart.
Whether it's the dreamy snake-charm-thump of "Lone Rider," the wistful whisky-soaked wisdom of "Down The Line," the honky-tonk ruckus of "Funeral Pyre," or the Gypsy-infused mandolin twang of "Reckoning," Rose's Pawn Shop will hook you. Like catfish from the creek, they'll reel you in. And they won't let you go.
And you'll be glad they did.
Because something happens when you hear these songs. No matter how low you've sunk, something in the music finds you. It picks you up and carries you home.
About Sassparilla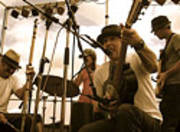 Sassparilla was fermented in the bold-dank regions of Chicago and Pittsburgh and spewed onto the sidewalk of Portland's 24th & Alberta from the mouth of a 5-gallon bucket, with homemade instruments in their clutches: a cigar-box guitar made from Granny's old jewelry box, a washtub bass given a severe beating with a stick, a polka dotted bucket drum kit with rusty break-drum & a hat-box bass. Adding to the mix is a smooth, lulling washboard's rat-tatting - articulated by a man named "Sweet Pea'" and a melodic and blustery fiddle/harmonica duo that dances and interjects like a muscular horn section. With passion, fury, speed, hustle and emotion, the whiskey rains like hellfire, the fingers fly over resonators, and this sextet muster their collective will to never play like cowards.
The result is a one-of-a-kind concoction of homemade, punk-infused, Portland blood-jug holler music.
About Danny Barnes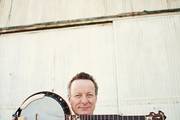 "A good song has a way of speaking to everybody" Danny Barnes says. "I have faith that more people are going to hear my songs, which is really what I have to offer. I'm not one of those virtuoso instrumentalists, I can't compete with those guys, but the one thing I can do is write really good songs."
Part Southern gentleman, part humble artist, Barnes is being more than a bit self-effacing with this statement. Widely regarded as one of the most innovative and genre-bending artists of his craft,
Barnes' musical interests are both varied and adventurous, and he incorporates that versatility into a progressive approach to an instrument that is musically polarizing and steeped in tradition. Although he demonstrates an appreciation for the history of the bluegrass, country, and folk music from which the banjo's reputation was born, his inventive take is what truly separates him from his contemporaries...using the banjo as his 'weapon of choice' to play non-traditional music like rock, fusion, and jazz with electronic percussion and loop elements.
He has come to redefine the banjo's perceived image in an eclectic career for which genre definitions have merely been a polite suggestion. From his early days as the driving force behind the impressive Austin-based Bad Livers, a band of pioneering Americana missionaries, through a prolific solo career and the development of his trademark 'folkTronics' project, a startling approach that incorporates digital technology and various effect pedals to stretch the tonal range of the instrument, Barnes has always listened to his proudly offbeat inner voice.
His skills as an instrumentalist and his open embrace and infectious love of music for music's sake, have brought him to share the stage and record with a wide array of marquee artists that reads like a who's who among broad musical landscapes, ranging from bluegrass greats Bela Fleck, Del McCoury, and Sam Bush, newgrass stars Yonder Mountain String band, to Americana artists Robert Earl Keen, Lyle Lovett, and Nickel Creek, to Jam friendly Gov't Mule, Leftover Salmon, and Keller Williams, to jazz and blues instrumentalists Bill Frisell, Chuck Leavell, and John Popper, to members of the punk and metal Butthole Surfers, Dead Kennedys, and Ministry.
On his new album, Rocket (to be released on November, 8th on ATO Records), Barnes continues to push the envelope and reinvent the wheel with the creation of the 'Barnjo'; a prototype of a hard body electric banjo with pickups that allow him to showcase his love for rock and roll, and his passion for melding genres together in a style that is quite frankly, all of his own making. Yet, on this new album, it is his uncanny songwriting voice that steps to the forefront.
On his last album, the critically acclaimed Pizza Box, Barnes found an ally in Dave Matthews (co-founder of ATO Records). "In the process of developing these ideas, one of the things I ended up doing a few times with my friend Dave, was to sit around and eat sandwiches and swap songs; new stuff we were working on.'Here's one......(jam) ....now play one of yours! (jam)', it's a great way to spend a day." Having played several shows with Dave Matthews Band in recent years, Danny was invited to perform on the band's latest platinum release, Big Whiskey and the GrooGrux King. Throughout the process, the two had become friends, and Matthews' enthusiasm for Barnes brought this body of work to light, with Matthews even contributing backing vocals on some of the songs (including lead single, "Overdue") and the cover art illustration of the album.
For Pizza Box, Matthews introduced Barnes to acclaimed producer John Alagia (Dave Matthews Band, John Mayer, Jason Mraz). With drumming powerhouse Matt Chamberlin (Pearl Jam, David Bowie, T-Bone Burnett), who Barnes describes enthusiastically, "the most bad ass drummer we could find," the team were let loose in Haunted Hollow, Dave Matthews Band's private studio in Charlottesville, Virginia. As Barnes puts it, "If you got good songs and a good place to work, and good people to work with, you just can't lose you know?" As the old adage states: 'if it ain't broke, don't fix it', the team was reunited in Los Angeles with the intent to rekindle the same kind of magic for round two on 'Rocket'.
According to Matthews, "the music is smart and soulful, and the lyrics are profound. It is heaven and earth. It is Americana, from the back porch to the pulpit, shattered dreams on angels' wings. I can't stop listening."
With 'Rocket', Barnes spins tales of American life like a latter-day John Steinbeck, wielding banjo and pen with equal effect, and the character of his voice as the perfect mouthpiece to truly bring these songs and stories to life. 'Rocket' comes stuffed with sharp hooks and addictive vocal and instrumental melodies, but it's Barnes skills as a storyteller that shine strong. He tells tales with the wry wit and humor of Garrison Keilor, the lyrical eccentricities and intellect of Randy Newman, performed with the southern twang and swagger of Levon Helm. Barnes combines and blends all of these elements into a style that is uniquely his own.
A vivid cast of characters travel through oft-overlooked back roads of the American landscape, hanging in forgotten corners as they assess the breakthrough moments in their often self-destructive paths. In turns humorous, touching, and gritty, they leap out of the grooves in flesh and blood, with their bruises, moments of grace and all. His sly observations are slid into richly detailed stories of characters in which the songwriting illuminates the broad experiences and struggles of folks stuck in various ruts. Even at their most unhinged, these creatures are identifiable and eerily familiar. Barnes sums up the underlying narrative: "The story is this group of people (as they intersect in their physical environs) that are on various sides of the life decision that they are not victims after all, but rather, the cause of their own misery. " Barnes reflects, "I'm just a regular person myself so I identify with a normal trip. That's one thing I like about pop music is it speaks to everybody and speaks to a broader perspective than say, just being a jazz vibraphonist. That's cool, but it's hard to reach out to people. I'm a music fan myself, and what do I like to hear? I like to hear weird pop music, like twisted pop. Songs, you know? And not necessarily in a bluegrass, acoustic or country way, or a jazz way or a rock way. Just these weird pop songs that are about modern life. That's what I feel connected to."
Of course, like any Barnes project, 'Rocket' will defy any labels one will try to slap on it. He isn't interested in conforming to past labels and associations, but rather, he is fascinated by the joy and creative possibilities to be found in the here and now. "What I'm always interested in doing is propelling acoustic music forward. Pushing it into the modern world, using it as a form for contemporary expression," he enthuses.
"I tell you, to be 50 years old and to be doing what I'm doing, and to feel like you've got the best record you've ever made by leaps and bound...boy, it's really exciting!" Barnes says with that trademark zeal and energy that keep his music so consistently fresh and compelling. "I just try to remember what it felt like when I was a kid. I try to stay about fourteen, when I was really excited about stuff and I could practice the banjo for ten hours and never think that was weird or hard. I try to remember that - just always being curious and learning. I've never been bored for one second of my entire life."
On the inset of one of his albums reads a simple statement above Danny's head peaking over the neck of his banjo with a look of willful optimism and the kind of hard-earned wisdom that comes from age and experience, "A. Hey, we're all in this together, and B. Music is good!" Therein lies the gospel of Danny Barnes.
About McDougall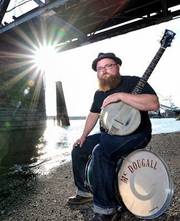 With his imagination often dwelling in the very real places of his past and present, as well as in the possible future, McDougall's songs may very well seat you by a coffee-can fire in the middle of a dry California river-bed, pull you up onto a freight train in the lush spring-time of the Pacific northwest, raise your voice in hymns with the entire family on a Thanksgiving afternoon, or haste your good-bye to civilization as you know it, as you ramble on with all you possess on your back.
Fact, fiction, and a little in between, McDougall carries on the relevant tradition of oral history and folklore, making it a part of everyday life and sharing it with those around him. Inspired by the word of God, his family, friends, fellow workers and fellow travelers met along the way, McDougall wishes to keep to the unwritten rule of using what was left by those before while leaving something of your own for those who will come after.
About Underscore Orkestra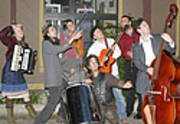 Portland-based Underscore Orkestra plays a blend of Balkan, klezmer, gypsy jazz and swing, with a repertoire consisting of both original and traditional material from fast bulgars and melodious waltzes to odd meters and swinging rhythms. Its instrumentation includes violin, accordion, guitar, banjo, clarinet, horns, flute, harmonica, bass, vocals and percussion. Each of the members comes from various backgrounds and musical disiplines from as far away as Russia and as close as our own Northwest. The Underscore Orkestra has been performing for the past 3 + years, touring all around the western U.S., Mexico and Guatemala and has been seen from intimate coffee shop setting all the way to huge outdoor festivals.
About Fast Rattler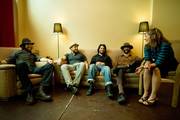 Fast Rattler started as a way for a son to get to know a little bit more about a father. Brendan grew up listening to the songs and stories of his father, Utah Phillips. He began to learn his songs, and the stories behind them, after discovering an old songbook Utah had put out titled "Starlight On The Rails." It wasn't long before a love of his dad's music grew into a full-fledged appreciation of the power of songs to pass on critical information about who we are as a people.
"...Phillips has clearly inherited his father's stature and stage presence, not to mention a book-worth of his forgotten songs." Kim Ruhl-Seattle Sound Magazine
Fast Rattler is a band of friends who love to share and learn songs together. Blending traditional American folk, bluegrass, Irish and Gypsy with elements of jazz, swing, and rock, Fast Rattler brings a new sound to familiar stories and new arrangements to old tunes. Over the last 5 years, Fast Rattler has involved many musicians who have all brought new perspectives and knowledge about various musical traditions. Over time, the project has grown to include original songs that build on a love for traditional music while fusing other influences like punk rock, soul,and reggae.
"I had never heard Brendan sing at all. He was playing my 1935 Gibson [guitar] that I had loaned to him, and there he was with [a full band], doing these songs I had practically forgotten... I wasn't just a little impressed. I was knocked down at the time and attention he put into putting these songs together." - Utah Phillips
Fast Rattler (n): a train you catch when you gotta to get out of town in a hurry.
When traveling through life, it's important to pay attention to the signs. They may be scratched in fence posts and rock walls like the hobo hieroglyphics one old 'bo would leave for another, passing on just enough information to avoid a watchful sheriff or get a good meal. It may be a story overheard in a crowded bar that holds the key to understanding a little bit more about the place you come from or the place you're headed. But the most potent, the most ingenious signs and messages to pay attention to are those that are left in songs.
About Chervona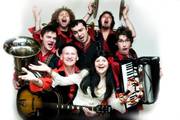 The band started practicing in Nov of 2006, and within first weeks of its existence they played at "Gypsymania" – gypsy dance discotheque created by Gogol Bordello's debaucher D.J. Dimon. After their first public appearances they rapidly gained popularity in their hometown. In 2007 Chervona played some special appearances with world famous Manu Chao and Gogol Bordello. By 2009 Chervona have shared stage with most exciting and famous Portland's bands including March Forth, 3 Leg Torso, Vagabond Opera, Portland Cello Project and many more.
In addition to countless street and club performances around pacific NW Chervona has played quite a few big stages, among them: Bite of Oregon, Northwest Folk Life festival in Seattle, Slavic Festival and Oregon Country Fair in Eugene, Red Marines festival in California, Under Volcano Festival in Vancouver (BC), Portland Polish Festival, Portland Pirate Festival, April Fool's Day Carnivals, Revolution Party in Portland and many others.
In 2008, Chervona appeared in Hale Mednick's locally produced, directed and shot independent film Messiah Complex. Two of their songs,"Chervona Wine"and "Girlfriends are a Pain", were featured on the soundtrack. "Messiah Complex" planned for screening at the 2009 Cannes Film Festival.
Chervona at its very first year playing City Repair benefit show 2007, opening for 3 Leg Torso.
During its first 4 years Chervona has played about 200 performances all over NW of America. Thousands of people from Vancouver, BC to Los Angeles watched, listened and danced to Chervona's music calling Chervona - Best NW Party Band!
Since 2008 Chervona is holding a monthly residency on every Last Thursday of the month at a legendary Portland venue, Alberta Public House with it's signature event Chervona Party!
In 2011, second monthly event was added to the calender - Chervona Secret Night on every second Saturday on a month at Secret Society Ballroom. Their second show in January 2011 at Secret Society was sold out and made a record for the clubs cocktail sales - the audience danced so hard that everyone got very thirsty.
As year 2011 is in progress, Chervona is focusing on producing new audio and video materials and establishing its e-net presence to gain more a solid fan base for the upcoming US and Europe tour and major label CD release.
Map & Directions
Tags for this Event:
Events > McMenamins Celebrations
Music:
World Music
Americana
Jazz
Rock
Blues
Property > Edgefield
Related content (tags):