& Lola's Room
1332 W. Burnside
Portland, OR 97209
(503) 225-0047
crystal@mcmenamins.com
Chris "Shifty" Schelske (of Reckless Kelly)
7 p.m. |
Free |
21 and over
About Chris "Shifty" Schelske (of Reckless Kelly)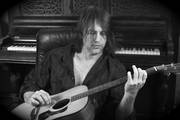 Chris Schelske grew up on a farm in the small town of Jefferson Oregon. Due to mandated piano lessons from his mom ( mother does know best) at a young age he began playing piano followed by drums, saxaphone and eventually bass guitar. The youngest of five brohers and two younger sisters to follow the Schelske boys got their hands on different intruments and formed different family bands throughout the years.
Chris's musical interests sparked from oldies, rock and country radio and Hee Haw was a required watch every Saturday night. His love for rock and roll started age the of 5 on his long school bus rides to the private Christian school he attended. " My school bus driver was cool and always kept the radio on the hard rock Oregon stations. Me and my kindergarten buddies were rocking out to bands like Pink Floyd, Cheap Trick, Kiss, AC/DC, Black Sabbath and Aerosmith on our way to a church school. It's pretty funny to think about actually."
At 17 he bought his first bass guitar purchased with the money he had earned after working all summer on the family farm. He and his brothers, Craig, Steve, Mark,and Mike along with friend Marty Lyles, formed a country rock band called North Santiam a year later and played gigs throughout Oregon. Throughout that time he also formed a rock and roll band called Tom Foolery with Ryan Waters and Jason Toll. Eventually North Santiam decided to try their luck in Nashville and packed up their beat up cars and drove across the country to the music city in 1991.
They soon realized Nashville wasn't the route they wanted to take their music so they moved back to Oregon. Chris then rejoined Tom Foolery, while still playing with North Santiam. " Foolery moved to Portland and we were playing at Satyricon, X-ray Cafe, Roseland Theater, Belmont's, Cisco and Poncho's, and the occasional outlaw biker clubs.
North Santiam meanwhile were working the country clubs throughout the state. " One night I'd be playing to line dancers down at the old country bar and the next night I would be smack dab in some the most dangerous rock bars and biker clubs on the West coast."
Tom Foolery disbanded in 1994 and Chris moved on to join the hard rock band Springtooth with Eric Lovre (formally of Dharma Bums) and drummer Johnny Dagger. After a year with Springtooth, Chris returned to his country rock roots and formed a band called The Prarie Mutts with his brother Steve, Cody and Willy Braun, and Casey Pollack.
"We basically practiced for 8 months every single day, drank pallets of beer and whiskey, and went back to Nashville. We recorded an album and played a showcase for the Nasville labels. We could have signed a cheese ass Nashville record deal but we opted to breakup the band instead of going down that yellow brick road."
After returning to Oregon once again, Chris, Cody, Willy, and Casey reformed and founded a new band they called Reckless Kelly. After a few months in Bend Oregon, they met a drummer named Jay Nazz and together the five of them decided to move the band to Austin Texas. Chris played from 1996 to 2001 with the band and took a hiatus and then returned to the band for another three years until 2012. ' I am extremly proud of the music I recorded and played live with Reckless Kelly and the fact that we never sold out and signed a major record deal even though we had many opportunities to do so."
After leaving the Reckless Kelly, Chris formed independent Austin/Portland based record label, Shiftone Records along with pursuing his own solo career. He is now splitting his time between the Northwest and Austin working with the artists on the label, Stephanie Michals, Bracken Hale, and Wilkinson Blades.
Map & Directions
Tags for this Event:
Property > Crystal Hotel
Related content (tags):