Come have fun in school... for once...
5736 N.E. 33rd Ave.
Portland, OR 97211
Local: (503) 249-3983
Elsewhere: (888) 249-3983
info.ks@mcmenamins.com
Randle Johnson Wine Dinner
7 p.m. |
$60 per person |
21 and over
About Randle Johnson Wine Dinner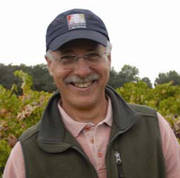 Randle Johnson, director of winemaking for The Hess Collection of wines, found in the U.S., Australia, South Africa and Argentina, will be your host at this multicourse wine and dinner event.
Reception
Smoked Trout Mousse and Cucumber Canape
with Crème Fraîche
Colomé Torrontés 2011
Menu
Summer Vegetable Terrine with Eggplant,
Grilled Peppers, Sweet Onions, Summer Squashes,
Parsley Oil and Sea Salt Crackers
Artezin Dry Creek Zinfandel 2007
Arugula, Fennel, Jambon, and Gruyère
tossed in a Champagne-Walnut Vinaigrette
Colomé Estate Malbec 2009
Rhubarb Sorbet
with Roasted Strawberry Compote
Amalaya Malbec Blend 2009
Coriander-Rubbed Rack of Lamb with
Mint and Cherry Jam, Hogshead Pickled Apricots
and Cannellini Bean Salad
Calafia Meritage &
Artezin Mendocino Petite Sirah 2007

Chocolate Pot de Crème
Artezin Mendocino Zinfandel 2009
---
Overnight packages are available
from $265­­-$275
call Kennedy School Hotel to reserve
503-249-3983
---
In the meantime, enjoy this recent interview with Johnson by Terroirist, a daily wine blog.
•
Each week, as regular readers know, Terroirist poses 16 questions to a winemaker. This week, we're featuring Randle Johnson, the head winemaker at Artezin Wines and a consulting winemaker at Colomé, Amalaya, and the Hess Collection.
Randle started his winemaking career in 1974 after graduating from UC Davis with a master's in viticulture and landing a position with Souverain Winery in Rutherford. There, he worked under legendary Napa Vally winemaker Phil Baxter, and in 1977, Randle became the vineyard manager and cellar master for Mayacamas Vineyards. After Mayacamas, Randle became the head winemaker at Stags' Leap Winery for two years, and then joined the Hess Collection in 1983.
Artezin is one of Napa Valley's more interesting labels, as it focuses on heirloom varieties like Zinfandel, Petite Sirah, Carignan, Charbono, and Mourvedre, principally from Mendocino and Amador Counties and Dry Creek Valley.
Check out our (in-depth!) interview with Randle below the fold.
•
What's open in your kitchen right now?
Well, it wouldn't be a surprise to find a beer open in a winemaker's kitchen, would it? In this case, a Napa Smith Cool Brew Hop Ale. And it shouldn't be a surprise, either, that I would enjoy drinking my own Artezin Petite Sirah, or Malbecs, particularly from Argentina, and even more particularly from Colomé. Whatever a friend shares, really. Of course, as a winemaker, there are also always open an array of oddballs, lab samples, wines I've traded at tastings and with friends. You'll always find something interesting.
How did you decide to pursue a career in wine?
I was attending UC Davis in the early 1970's, and waiting for med school application results, to be judged for admissions. I had been accepted to dental school, and was considering my options, whether to pursue that career or possibly wait another year to begin medical school.
I worked at a local lumber yard and had to travel north to purchase some lumber and I made my way up the highway through Sonoma and Mendocino County. Even then, there were beautiful vineyards evident all along the road. I became curious. I knew that Davis had an excellent viticulture program so I dropped by the department and we had an instant, mutual attraction.
I didn't give up on med school, but the department, which really wanted to grow and make a name for itself at the Graduate level, even beyond what it already enjoyed, began offering incentives. A research position, some tuition support. It became the proverbial offer I could not refuse and come springtime, I began my exploration of what would become my life's passion. UC Davis loved science majors, and there were lots of cross-overs and parallels with the study of medicine, so it was a natural fit. By 1974, I was fully engaged in the industry, and I've never regretted the decision.
How did you learn to make wine?
I enrolled in all the courses I could, in both enology and viticulture. My initial major, in fact, was in viticulture. Enology, of course, included a variety of tasting seminars, on campus and off campus, and I began to recognize that while both disciplines are key in making great wine, I was most comfortable on the winemaking side.
In those years, there were a variety of students who would lead the vanguard and resurgence of California wine years later. My classmates, some enrolled a year behind me or a year ahead, included Jeff Baker, Merry Edwards, Harold Osborne, Tom Selfridge, Steve MacRostie, Gary Eberle, Jed Steele and an undergraduate named Tim Mondavi to name just a few. We had a great crew.
Terrific industry speakers and wonderful professors. It was a privilege for our class to study with what was, really, the second generation of the legendary Davis professors. The roster included Dinsmore Webb, Jim Cook, Vernon Singleton, Maynard Amerine, James Guymon, Mark Kiewer, Cornelius Ough and several others.
How do you spend your days off?
It's not so funny, but the truth of the matter is, I don't have that many days off. When I'm not in the winery or checking on vineyards, there's always a public relations event somewhere that features a winemaker. I spend weekends working on vineyard duties since I have my own little half-acre vineyard to take care of, above and beyond my work for Artezin. It's planted in a way that makes it pretty intense. My three favorite varieties are planted there, Cab, Malbec and Petit Verdot, and I make a little wine from the vineyard each year. Well, maybe three of my five favorite varieties and you can guess the others (think Zinfandel and Petite Sirah).
I still do some hiking in the Sierras along the John Muir Trail. While working to become an Eagle Scout, we spent a lot of time in the Sierras.
Who are your favorite winemakers in history?
Without a doubt, the strongest and most influential mentor of mine was André Tchelistcheff. I had the great privilege of traveling through Europe with André twice, once on a scholarship. He and I worked together in Napa and Sonoma. I would sit in on tastings at his house, when folks he was consulting for would stop by. I became a readily available tasting partner, and many times I didn't even know what exactly I was tasting. We would sit around the dining room table, or in the kitchen, discuss wines, and I would take extensive notes. He wanted another pair of eyes — well maybe another taster, as well — so the clients he was consulting with had solid insights about the wine in development. I was very much in the background, never actually going to the wineries where he was consulting, but I was very close in the process, and close with both André and his wife. Those were great, great experiences. He had a great love of flowers, and his back patio here in Napa was abundant with plantings, especially his favorite, which I believe was Azaleas. That's what took him away from the world of wine.
He was very influential with me professionally and personally, as a human being.
My first boss, the fellow who took me under his wing, was Phil Baxter, at what was then called Souverain of Rutherford. He was very influential. Dick Arrowood in Sonoma had a lasting influence on me. Patrick Léon, the winemaker from Chateau Mouton-Rothschild who paired with Tim Mondavi to create Opus One, gave freely of his time when I visited him in France. My Argentine mentor is Carlos Tizio, who put Bodega Norton on the map, and now is the GM at
Clos de Los Siete.
What new winemakers are you most excited about, and why?
As the old saying goes, I don't get out much, or at least as much as I used to, working harvests in two hemispheres. Rex Smith at Vine Cliff would get the nod as one of my new and exciting winemakers. Steve Urberg at Gloria Ferrer. I like Mark Herold's work, now at Kobalt. Stephanie Putnam at Raymond, along with Aaron Pott, who consults for Quintessa and several other wineries, including his own, Huis Clos. Andy Erickson, who also consults. It's sort of crazy, there are so many new winemakers. It's a very tough question. Lots of great new talent out there. The world of Pinot Noir is its own orbit, with its own constellation of stars, some trained and some making wine by intuition, taste, feel and experience. Of course, close to home, I work with great young winemakers, particularly Arco Laarman at Glen Carlou, our winery in South Africa, and my running mate in Argentina, Thibaut Delmotte, who is originally from Burgundy.
What mailing lists, if any, do you purchase from?
Mostly, I trade with colleagues and friends. I do buy from Hess retailers when I'm out in the marketplace calling on accounts with our sales team. We'll get to talking about something interesting and I'll purchase wine they recommend. I am a little partial to an Internet retailer called Wine Access, forwarded to me by friends. I haven't purchased, but I'm fascinated by what they offer, from what countries, at what prices. Part of my curiosity as I track the market.
What's the best wine you've ever tasted? The most interesting?
The best wine I ever tasted was probably a 1945 Château La Mission Haut-Brion at the home of a Dallas wine enthusiast, Marvin Overton, a neurosurgeon with a vast cellar. He collected wine for more than three decades, and had 10,000 bottles in his cellar before abruptly dismantling his entire collection. I was there when I was working with Mayacamas, and I arrived to give a little talk at the local chapter of La Chaîne des Rôtisseurs, a wonderful group of enthusiasts who combine a love of good food, good wine and good living. I was in Black Tie, perhaps one of the first times, a fairly young whipper-snapper. Truth is, someone else was supposed to go, but it was harvest time, and I was deemed expendable enough to go and make the presentation. "You're a good speaker, just go ahead and do it," they said. I spoke about mountain Cabernet Sauvignon. Marvin took the head table over to his house for dinner, wanting to show off a bit. He turned to me out of the blue, after most of the group had settled in. As they retired upstairs, he gave me marching orders: go into the cellar, find something interesting, no matter what, and bring it along and we'll enjoy it. It turned out to be an absolutely great bottle of wine.
Most interesting? I've had literally dozens I would drop into the category of most interesting. I've had some very interesting distillates from Pear and Apple from France, not Calvados, but really quite good. In graduate school, there were two brothers who were just nuts about German Riesling, and every single week for a year we would all go to their house and taste these wines to the Nth detail. When I left UC Davis I knew an awful lot about German Riesling. We used to laugh because they would always complain about not having enough money for food, rent, and books, but they had enough money to buy Riesling every week. And they were married. Eventually we had to move our tastings from their homes, since their wives were not as enthusiastic as our tasting group. It's something I would never have done on my own, but given the chance, especially in school, you just have to go for it. One of them ended up as a vineyard manager at Mayacamas.
What's the oldest bottle in your cellar? The most expensive?
I have some Bordeaux from the 1960's, quite a bit from California from the 1970's including some of the first Joseph Phelps releases, and Mayacamas. Most of it is likely over the hill. Like so many of us, we put aside, but we don't get around to the cellar as often as we should. It bugs me. I go to functions and someone will invariably pull out a wine I made 20 years or more ago. Sometimes, it's my pals trying to embarrass me. "How shot is this wine?" But I have to say, often we're all surprised at how good the wines from Mount Veeder can be. We used to pick at 23°, pH was low, acids high, wines that could go the distance.
As for the most expensive, I do have friends whose wines sell on release at $250+ and we trade, mostly Napa Cabs, labels everyone would recognize.
I have a 5-liter of Hess Reserve 1984 Mount Veeder Cabernet Sauvignon I received for my 25th anniversary at The Hess Collection that I treasure. Everything was so good that year we didn't do any regular bottlings, the whole vintage was reserve.
If you had to pick one red and one white to drink for the next month with every dinner, what would you choose?
This reminds me of the old exercise that goes "if you were stuck on a desert island with a case of wine, what would it be?" I'm stuck, really, with just a case of red and just a case of white? If I'm really facing that challenge, it can't be something big like Petite Sirah, because even I couldn't drink that 30 days in a row. So, if I'm stuck, I need a more middle of the road wine. You don't want something that's totally wimpy, that you're going to get bored with, but on the other hand, you can't have something that's going to strip the enamel off your teeth every single night. No dentists on a desert island. So, the perfect answer is…Zin Fan Del. That's the perfect middle road choice. Not too big, not too light, a classic style Zin, easy drinking. A relaxing wine, in most unrelaxing circumstances. For white? Same strategy, nothing heavy and ponderous, nothing light and wimpy. Perhaps a crisp Chardonnay or a rounded, richer style Sauvignon Blanc.
What's your biggest challenge as a winemaker?
Making the correct call in the field for picking at harvest time. Calling the pick, how far away from the bullseye am I really going to be? As I taste fruit in the field for a month, you think you've got it, and then again, maybe you don't. Get it right, you're going to have some fun. Get it wrong, you'll be working harder to craft the best wine you can from the vintage from that vineyard.
What's your favorite wine region in the world — other than your own?
Napa, of course, is my home base, but I spend time in Argentina, I truly love it there, but I guess you'd have to say that's also home base for me. So, with those constraints, the Côtes du Rhône, with Bordeaux a close second. For everyday, pleasant, stranded on a desert island wine, that's Côtes du Rhône, and Zinfandel. For wines for my cellar, Bordeaux.
In California, it's obvious, but the regions are tied intimately with the variety. To properly answer this question, I'd rather say, what's your favorite Sauvignon Blanc district? My favorite Zinfandel, for example, is Dry Creek Valley. Carneros for Chardonnay. Sauvignon Blanc, several places since it's so versatile. Malbec, too, does well in several districts. Cabernet Sauvignon I can unequivocally say, after making Cab from virtually every district in California, without being parochial, Napa Valley and Sonoma Valley are the best districts, hands down, for Cab.
Is beer ever better than wine?
Of course, that's a no brainer. Every winemaker says that.
What would people be surprised to know about you?
I'm not a total geek like my reputation seems to be, honest. I'm not totally geeky. I'm hard to live with. Everybody thinks I'm so easy going, well, talk to my wife! No deep secrets. I don't play the bagpipes, play the piano, fly an airplane or a helicopter. I make wine on two continents, which doesn't leave time for a lot of surprises. This isn't well known: I have a degree in Psychology, with an emphasis on clinical and humanistic studies. I spent a summer as an intern at UC Davis Med Center, working in the Mental Health Center. Part of that job was to evaluate detainees in the lock-down ward. There were some unique experiences!
If you weren't making wine for a living, what would you be doing?
I'd likely be a writer of some sort, not quite sure what kind of a writer I'd be, but all my English professors asked me to go into writing for a living. I'm not working on the Great American Novel, but maybe someday.
How do you define success?
Success is like a fine wine, it's all about balance. You need to be able to successfully balance a lot of different aspects of your life. I think about something Mick Jagger said: "the creative process is antithetical to the orderly life." I think he meant that the routine of everyday life works against introspection and creativity, or it can if you're not careful. I've lived my life as a personal challenge to prove Mick wrong. I think I'm doing all right.
•
Hess Collection website:
Map & Directions
Tags for this Event:
Events > Beer, Wine, and Spirits
Property > Kennedy School
Related content (tags):