& Lola's Room
1332 W. Burnside
Portland, OR 97209
(503) 225-0047
crystal@mcmenamins.com
Desaparecidos
Virgin Islands
8 p.m. doors, 9 p.m. show |
$20 advance, $25 day of show |
All ages welcome
Buy Tickets
Tickets on sale now!
The weekend will end when we say it ends! After the Crystal show don't miss the free after-party in Lola's Room, with the band's own Denver Dalley DJing the tunes.
About Desaparecidos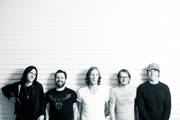 Desaparecidos is a rock band featuring Conor Oberst (vocals,guitar) Landon Hedges (bass guitar, vocals), Matt Baum (drums), Denver Dalley – (guitar) and Ian McElroy (keyboards). The band formed in 2001, released one album (2002's Read Music/Speak Spanish), and broke up shortly thereafter. In 2010, Desaparecidos reunited to play The Concert for Equality in Omaha.
Official Website:




Facebook Page:
About Virgin Islands
Last wave punks Virgin Islands have been making waves in their home city of Seattle and beyond since their inception in the fall of 2009. The band releases their debut full-length "Ernie Chambers v. God" on May 10th, 2011 via The Control Group. ECvG is a politically provocative and musically bold rock album, yes – album, with 11 socially charged manifestos that could be the perfect house music for the last party on earth, or the fight songs for your next revolutionary meeting. Arguably post punk and definitely postmodern, this record is an intense and sincere statement from a band that's not afraid to buck the status quo, much like the man Ernie Chambers himself. Virgin Islands usher in the last wave of rock music with conviction and soul.
The band, consisting of lead singer and guitarist Michael Jaworski (formerly of The Cops), drummer Aaron Ball, bassist Charles Keller and guitarist Christopher Meyer have stumbled upon something rare in this world. They've found a channel to create rock music that is exciting, fun and completely relevant in modern times. Virgin Islands stand out in the sea of sameness and passionately carry the torch of politics and punk rock while delivering one sweaty rock show after the next. Ernie Chambers v. God could be party music for the apocalypse, or it may be what we need to lead us out of darkness.
Either way, the last wave of rock n' roll never felt so good. Ernie Chambers v. God was recorded to tape over 8 days in November of 2010 and was co-produced by the band and Johnny Sangster (Mudhoney, The Briefs, The Cute Lepers, Steve Turner).
Official website:




Myspace page:




Facebook page:
Map & Directions
Tags for this Event:
Music:
Alternative/Indie
Rock
Property > Crystal Hotel
Related content (tags):